Warranty Claims Undertaken
0% Finance Available on Repairs
Safeguard Manufacturer's Warranty
Vehicle Collection Local to You
Browse the Latest Work from Our Specialist Repair Centres
Browse our gallery of some of the latest gearbox, transmission and engine repairs and replacements, from experienced technicians at our specialist repair centres local to you. Our technicians provide exceptional services for all makes and models.
Ford

Service Intervals

Most car manufacturers make the following recommendations, although this depends on the age and mileage of the vehicle.

Interim Service - every 9,000 miles or 12 months
Full Service - every 12,000 miles or 12 months

Check your service interval display & service book for correct schedules. All mileages are approx.

Every service is completed with resetting your service light and stamping your service history book.
We Can Update Your Ford Digital Service Record
The Ford digital service record (DSB or digital service book) provides an online look at your vehicle's service history. These digital records can be easily accessed by servicing technicians for reference to the history of the vehicle and as the record is stored online there is no risk of it being lost. Service4Service also have access to record the servicing work on the system and can upload all service records to the database. This ensures that our customer's service record is always complete.
Local & Affordable Ford Servicing & Repairs
Independent UK car servicing specialist, Service4Service, takes pride in offering affordable Ford car servicing & repairs, local to you. Ford has established itself as a major player in the car manufacturing industry since the first Ford was manufactured in the UK. The Ford Model T was followed by nearly 75 different models of passenger vehicles and over 55 commercial vehicles, which is why it deserves a service of equal standard to keep its maintenance optimal. Regular servicing is the cornerstone of a well-functioning vehicle. Our comprehensive Ford servicing encompasses everything from oil changes to brake inspections, addressing potential issues before they become larger problems. This proactive approach not only maintains your car's efficiency but also ensures safety on the road.
Service4Service can provide you with a quality car service for your Ford, maintaining its optimal performance, safety and comfort, at a much lower price than found with any of the main dealers locally in your area. When it comes to maintaining your Ford, our servicing and repair options are tailored to ensure optimal performance and longevity. Our skilled technicians bring expertise and dedication to every aspect of your vehicle's care. You can check out the list of models below, and if you don't see your model listed, don't panic! Simply send us an enquiry and one of our friendly sales team will be able to help.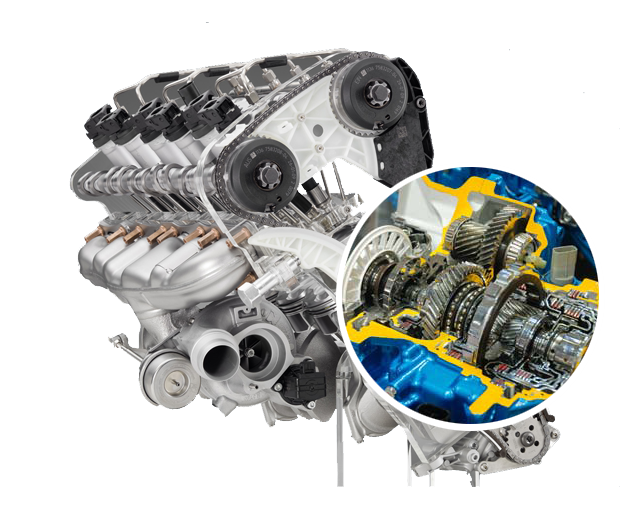 We Can Update Your Ford Digital Service Record
Ford's Digital Service Record revolutionises vehicle maintenance, offering a seamless, comprehensive record accessible anytime, anywhere. This electronic repository digitally logs all servicing and repairs, ensuring accuracy and transparency. Owners can effortlessly track their Ford's maintenance history. This secure platform consolidates service details, from routine check-ups to major repairs, providing an overview for both owners and service centres. With its convenience and reliability, the Digital Service Record streamlines vehicle management, ensuring a well-documented maintenance journey for every Ford owner. Your Ford's service history will be updated each time that you use Service4Service for your Ford servicing so that you no longer require a logbook.
We Only Use OEM or Manufacturer Warranty-Approved Parts
It's a common misconception that a good Ford service needs to be expensive. At Service4Service we are able to offer quality servicing but for up to a 65% discount on the price that you'd typically expect from a main dealer. We guarantee that your Ford will be serviced by fully qualified vehicle technicians using only OEM or manufacturer warranty-approved parts so that your car continues to perform the way the engineers who built it intended. All of our Ford services comply with EU block exemption laws so your manufacturer warranty is completely protected when your car is serviced with us, which means you can benefit from big savings on your car servicing and repairs compared to main dealer prices.
We can arrange a service and repair for all models. We understand that each Ford model has its unique specifications. Our servicing and repair protocols are customised to cater to these specific needs, enhancing performance, reliability, and fuel efficiency. We are committed to transparent communication, ensuring you understand every step of the process. When it comes to maintaining your Ford, our servicing and repair options are tailored to ensure optimal performance and longevity. Our technicians bring expertise and dedication to every aspect of your vehicle's care.
✔ Warranty Claims Undertaken ✔ 0% Finance Options Available ✔ Free Recovery & Diagnostics ✔ 12-Month Guarantee
Looking for a Hassle-Free
Ford

Repair?

You'll find that our technicians are happy and willing to repair almost any problem that your Ford might have, from a damaged clutch to a difficult gearbox. We only ever replace parts with manufacturer's warranty-approved parts, so you can be sure that any replacements are like-for-like, and we offer a 12-month warranty on any Ford repairs that we do. You can also spread the cost with 0% interest-free finance available on Ford servicing and repairs.

Complete our Ford repair enquiry form and await a call, or call us to speak to one of our specialist advisors on 0808 164 0418.
Spread the Cost with 0% Interest-Free Finance on Servicing & Repairs
At Service4Service we want to help ease the cost of your car service or any other unexpected vehicle repairs, by offering our customers the option to spread the cost of their repair bill over either four or ten months, interest-free with a choice of car repair payment plans.
4 months interest-free option
Car repair or servicing costs totalling over £350.
Spread the cost over 4 months interest-free.
You pay 25% of the total upon application.
The remaining 75% is spread over 3 equal monthly payments.
A valid UK debit card is required to arrange the payment plan.
10 months interest-free option
Car repair or servicing costs totalling over £1000.
Spread the cost over 10 months interest-free.
Deposit between 10% - 50%.
Finance subject to acceptance.
Credit and affordability checks carried out.
Ford Servicing & Repairs FAQs
Understanding your Ford's maintenance needs, and addressing issues promptly are key to maintaining your car's performance and reliability. If you have specific questions about your Ford or a repair issue, don't hesitate to call Service4Service on 0808 164 0418 for guidance.
How often should I service my Ford vehicle?
Ford recommends regular servicing intervals typically every 10,000 to 15,000 miles or once a year, but it can vary based on your specific model, driving habits, and the conditions your vehicle faces. Check your owner's manual or consult with one of our technicians for personalised guidance.
What does a Ford service include?
A standard service usually involves oil and filter changes, brake inspections, a check on all tyre treads and pressures, fluid level checks, and overall vehicle diagnostics. More comprehensive services cover additional checks and maintenance specific to your vehicle's needs. Click here to compare service options.
Is routine servicing even necessary if my Ford is running fine?
Yes, routine servicing is crucial even if your Ford appears problem-free. Regular maintenance ensures preventive care, addressing potential issues before they escalate. It optimises performance, extends longevity, and upholds warranty requirements, safeguarding your vehicle's health and value over time.
How do I know if my Ford needs immediate repair?
If your Ford displays unusual noises, dashboard warning lights, diminished performance, or changes in handling, it likely needs immediate professional attention. Any abrupt changes in the vehicle's behaviour or functioning warrant prompt inspection by a skilled technician at Service4Service to address potential issues.
What are the most common problems with Ford Vehicles?
Ford manufacturers and distributes some of the most reliable vehicles in the industry, but they certainly aren't without their faults. From oil leaks to issues with the bodywork, all the way through to more modern issues including connectivity problems, Ford cars certainly experience their fair share of problems. For help with Ford repairs or servicing get in touch with our team.
What types of Ford repairs can you carry out?
We provide several types of Ford repair including Ford engine repairs and reprogramming, Ford clutch repairs, Ford Powershift gearbox and transmission repair, Ford turbochargers and even Ford bodywork repair. Our specialist technicians fit Original Equipment Manufacturer (OEM) or warranty-approved parts only and all of our parts and labour come with a 12-month guarantee.
My Ford engine is making a strange noise, what can I do?
If Ford's engine is making a strange noise, this could be a sign that something isn't quite right under the hood. The highly-skilled technicians at Service4Service can run full Ford diagnostics to discover the source of the issue and, following your approval of the work and costs, repair any faults or damage that may be causing the problem.
Can you update my Ford digital service record?
It is important to keep your Ford servicing record up-to-date and the Ford Digital Service Schedule will ensure that this is kept as accurate as possible. The Ford Digital Service Schedule will be used for the life of your car and is saved chronologically in a secure centralised system, removing the necessity to present a service logbook.
How is my manufacturer's warranty protected even though my vehicle is being serviced through Service4Service?
The 'Block Exemption' European legislation introduced in 2003 means we can service your vehicle without invalidating your manufacturer's warranty. Our fully qualified technicians and mechanics provide a high-quality car service using standard original equipment or genuine parts for all types of vehicles. That's why customers can save time and money by using Service4Service rather than a main dealership.
How can Service4Service offer their customers such low prices on car servicing for all vehicle manufacturers and models?
Whether it's service, parts or labour, at Service4Service we can help customers make huge savings on main dealer prices. Simply use the form at the top of the page to find out how much you can save on the price of a car service. By using our local service centres and keeping a keen eye on our labour rates, we ensure we offer the most competitive prices possible for original equipment manufactured and warranty-approved parts for all vehicles.
Ford Models We Service & Repair
Ford B-MAX
Ford Fiesta ST
Ford EcoSport
Ford Mustang
Ford Edge
Ford C-MAX
Ford Cougar
Ford Escort
Ford Explorer
Ford Fiesta
Ford Focus
Ford Fusion
Ford Galaxy
Ford Granada
Ford Ka
Ford Kuga
Ford Maverick
Ford Mondeo
Ford Orion
Ford Probe
Ford Puma
Ford Scorpio
Ford Sierra
Ford S - MAX
Ford Street - Ka
Ford Escort Van
Ford Fiesta Van
Ford Ranger
Ford Torneo
Ford Torneo Connect
Ford Transit
Ford Transit Connect
Our Features & Benefits
Our service centres use specialist computer diagnostic equipment to carry out a full health check of your vehicle
Our technicians fit Original Equipment Manufacturer (OEM) & manufacturer warranty-approved parts only
We will collect & deliver your vehicle either from home or at work at a time that suits you
Your vehicle will receive a high-quality service that fully protects your manufacturer's warranty
Your vehicle will be washed at no extra charge when you book a full service
How to Book a Service or Repair
Booking a service or a repair for your vehicle is a fast, hassle-free process.
Simply use our online booking form at the top of the page where you can easily follow our 4 step booking process.
Alternatively, you can call us on 0808 164 0418 and one of our friendly sales team will be able to help with your service or repair booking.
Recent Customer Reviews
Very good service from you. Many thanks.
Great service! Car was picked up and dropped off without any problems! I liked the fact that I was kept up to date with my car and what was going on with it's MOT. Such a great price and is as easy as it seems. I will be coming back again next year for my MOT.
All the work was done on the same day and car was back with me that evening, fully washed and vacuumed. Cheers for all your help.
Helped me out with my S-Max. Kept me up to date all the way explaining what was wrong.
Very easy process, very polite staff. I will be coming back for my MOT next year. Keep up the good work.
Thank you. Excellent service, good price and you cleaned my car.
Car collected a little later than stated but otherwise a very good service.
I thought overall this is an excellent service that helped make my day work out without an inconvenience. With this being my workhorse for the kids, it was nice to know that you looked after my car and advised accordingly with very good prices (although I did shop around just to see but still your prices were better!). My kids were very happy with a nice clean car coming back. Thank you
A good company who have helped me out a treat. Thanks.
I would like to feedback to you that you have a happy customer after a very smooth and easy process.
Thank you for a good service and maintaining the warranty from Ford.
Hi all, rather impressed by your service and will let my friends know. Many thanks.
Your price for the service was competitive and reasonable for the job completed. The booking went well.
Top job and a service to remember!
Very good service from collection to drop off. Car was valeted excellently.
Would use the service again.
Excellent service. Car was picked up and returned very quickly. It was cleaned both inside and out, perfect. Will definitely use you again and recommend you to others. Thanks very much.
I would like to send you a massive thank you for the really excellent service i could experience. Everybody in the servic4service team was very nice and very helpful and my appointment was booked in for the next day. A very nice person from the garage called Gary picked up my car from work in the morning and brought it back here. He also was so helpful and made sure that everything i want to is being taken care of. The complimentary service of collecting and delivering the car is just so great really and on top of that my car came back cleaned from both inside and outside. I will definitely keep service4service in mind and you really should keep the garage in mind, that was a very good service. Many Thanks.
I was very pleased with the prompt service I received from the first telephone call until my car was returned this afternoon. I have been out in it since and it seems to be running like a dream, thank you. I feel happy now as I have a few long trips to make the next few weeks. I certainly will use you again.
Why Use

Service4Service?
Guaranteed protection on your manufacturer's warranty
Vehicle collection and delivery
Full diagnostics and reprogramming
Service book stamped or digital service book updated
Manufacturers warranty protected
FREE wash (full service only)*
Vehicle health checks
12-month warranty on all parts
Price includes parts & labour for service
0% finance option
*Outside wash of vehicle only, subject to availability.