Warranty Claims Undertaken
0% Finance Available on Repairs
Safeguard Manufacturer's Warranty
Vehicle Collection Local to You
Browse the Latest Work from Our Specialist Repair Centres
Browse our gallery of some of the latest gearbox, transmission and engine repairs and replacements, from experienced technicians at our specialist repair centres local to you. Our technicians provide exceptional services for all makes and models.
Citroen

Service Intervals

Most car manufacturers make the following recommendations, although this depends on the age and mileage of the vehicle.

Interim Service - every 9,000 miles or 12 months
Full Service - every 12,000 miles or 12 months

Check your service interval display & service book for correct schedules. All mileages are approx.

Every service is completed with resetting your service light and stamping your service history book.
The Benefits of Our Car Service
What's included in a vehicle service?
Vehicle collection and delivery
Service book stamped or digital service book updated
Manufacturers warranty protected
FREE wash (full service only)
Vehicle health checks
12-month warranty on all parts
Price includes parts & labour for service
Local & Affordable Citroen Servicing & Repairs
Independent UK car servicing specialist, Service4Service, takes pride in offering affordable Citroen car servicing & repairs, local to you. Servicing and repairs for Citroën vehicles are vital for maintaining their performance and reliability. Regular servicing is typically recommended every 12,000 miles or annually, and involves thorough checks of vital components like brakes, suspension, fluids, and filters. Citroën models often require specialised attention due to their unique engineering and technology. Citroën is a major French automobile manufacturer that has earned a well-deserved reputation for revolutionary engineering, which is reflected in the company's slogan "Créative Technologie". The brand celebrated its 90th Anniversary in 2009, which is why it deserves a Citroen service of equal standard to keep its maintenance optimal.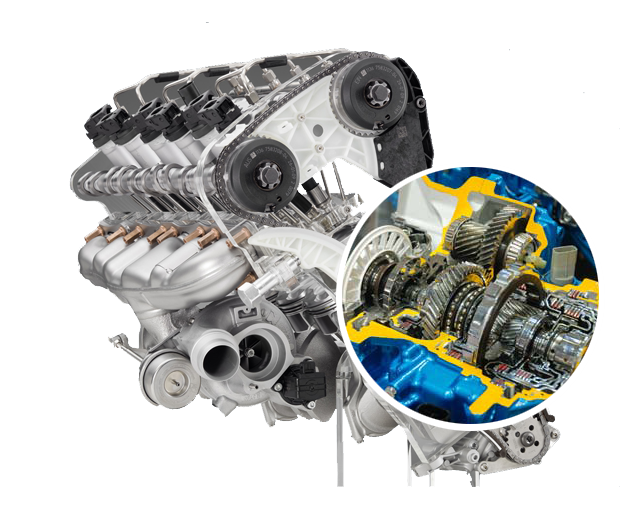 It can be tricky to know how to get the best value for money from your Citroen servicing. Of course, it needs to be done, but how do you know you're getting what's best for your car at the lowest possible cost? Unless you're a mechanic, it's tricky to know quite where to start, so, at Service4Service, we like to keep things nice and simple for our customers. We provide a quality car service for your Citroën, maintaining its optimal performance, safety and comfort, at a much lower price than found with any of the main dealers locally in your area. To make things as easy as possible for you, and to ensure your Citroen service doesn't impact your day, we offer a collection and delivery service for your vehicle. Either leave your car at home or at work and we'll collect it before dropping it home when the work is complete.
We Only Use OEM or Manufacturer Warranty-Approved Parts
We guarantee that your Citroen will be serviced by fully qualified vehicle technicians. We only use OEM or manufacturer warranty-approved parts, which means that you won't be in need of a replacement six months down the line, and all of our Citroen servicing is manufacturer-approved. That means that we're able to stamp your service book and you'll preserve both your manufacturer's factory warranty and any extended warranty you may have. Citroen servicing includes diagnostic assessments to detect potential issues early by skilled technicians, to ensure accurate maintenance and timely repairs, crucial for maintaining the vehicle's integrity and performance.
Repairs for Citroën vehicles cover a spectrum, from electrical and mechanical issues to bodywork and complex system repairs. Our technicians are proficient in Citroën's intricate systems and efficiently handle tasks like resolving electrical faults, addressing suspension concerns, or diagnosing engine problems. Staying proactive with servicing schedules and addressing problems promptly can significantly extend your Citroën's lifespan. Prioritising servicing and repairs ensures Citroën vehicles continue to embody the brand's hallmark blend of innovation, comfort, and performance on the road. For Citroen servicing or repair enquiries or to book your vehicle with us, you can call us on 0808 164 0418 and one of our friendly sales team will be able to help.
✔ Warranty Claims Undertaken ✔ 0% Finance Options Available ✔ Free Recovery & Diagnostics ✔ 12-Month Guarantee
Looking for a Hassle-Free
Citroen

Repair?

You'll find that our technicians are happy and willing to repair almost any problem that your Citroen might have, from a damaged clutch to a difficult gearbox. We only ever replace parts with manufacturer's warranty-approved parts, so you can be sure that any replacements are like-for-like, and we offer a 12-month warranty on any Citroen repair that we do. You can also spread the cost with 0% interest-free finance available on Citroen servicing and repairs.

Complete our Citroen repair enquiry form and await a call, or call us to speak to one of our specialist advisors on 0808 164 0418.
Spread the Cost with 0% Interest-Free Finance on Servicing & Repairs
At Service4Service we want to help ease the cost of your car service or any other unexpected vehicle repairs, by offering our customers the option to spread the cost of their repair bill over either four or ten months, interest-free with a choice of car repair payment plans.
4 months interest-free option
Car repair or servicing costs totalling over £350.
Spread the cost over 4 months interest-free.
You pay 25% of the total upon application.
The remaining 75% is spread over 3 equal monthly payments.
A valid UK debit card is required to arrange the payment plan.
10 months interest-free option
Car repair or servicing costs totalling over £1000.
Spread the cost over 10 months interest-free.
Deposit between 10% - 50%.
Finance subject to acceptance.
Credit and affordability checks carried out.
Citroen Servicing & Repairs FAQs
Understanding your Citroen's maintenance needs, and addressing issues promptly are key to maintaining your car's performance and reliability. If you have specific questions about your Citroen or a repair issue, don't hesitate to call Service4Service on 0808 164 0418 for guidance.
How often should I service my Citroën?
Citroën generally recommends servicing every 12,000 miles or annually. Adhering to this schedule helps maintain optimal performance, ensures timely checks on critical components, and extends the vehicle's lifespan. Always refer to your vehicle's manual for precise servicing intervals tailored to your specific model.
Is routine servicing essential for a new Citroën?
Routine servicing is vital, especially for new Citroëns under warranty. Adhering to manufacturer-recommended service intervals maintains warranty validity and ensures optimal performance. Skipping service intervals might compromise warranty coverage and impact the vehicle's long-term health and reliability.
How can I identify if my Citroën needs repairs?
Watch for warning signs such as dashboard alerts, unusual noises, changes in performance, leaks, or odd smells. Any of these indications might signal underlying issues requiring immediate attention. Promptly addressing these signs can prevent further damage and maintain the health of your Citroën.
What are critical maintenance tasks for Citroën vehicles?
Critical Citroën maintenance includes regular oil changes, brake inspections, and tyre and fluid checks. Monitoring the suspension, electrical systems, and engine health is crucial. Addressing these tasks ensures peak performance, safety, and longevity of your Citroën vehicle.
What are the most common issues with Citroen vehicles?
Citroen vehicles can have a range of issues throughout their lifetime, ranging from heavy steering and easily scratchable windows to creaky front doors and water leaks. Our technicians and mechanics are well-versed in not only in-depth Citroen engine and gearbox repairs but also in bodywork and other similar repairs. At Service4Service, our team will run full diagnostics to find the cause of any issues you've been experiencing.
My Citroen gearbox is making a grinding noise, what should I do?
If your Citroen's gearbox is making a grinding noise, it could be a sign that something isn't right within the gearbox and may be in need of repair. We offer full Citroen diagnostics to source the issue and determine the cause in order to provide the most accurate repairs possible. Following approval of the work and the cost, our technicians can then go ahead with any Citroen gearbox repairs at a servicing and repair centre local to you.
What Citroen repairs do you offer?
Citroen vehicles can run into a range of problems, but our skilled technicians are well versed in solving a wide range of issues. We offer Citroen engine repairs, Citroen gearbox repairs, bodywork repairs and more. When you book in your vehicle with us, we run full diagnostics to determine the cause of the problem to put together the best plan for work required.
How long will my Citroen repair take?
Repair times vary; consult your technician for specific duration estimates. We always inform you not only of the work that needs to be done but of the cost and estimated repair time. If at any point during the process of repairing your Citroen, we find that the repairs are going to take longer than estimated, we will keep you updated.
How is my manufacturer's warranty protected even though my vehicle is being serviced through Service4Service?
The 'Block Exemption' European legislation introduced in 2003 means we can service your vehicle without invalidating your manufacturer's warranty. Our fully qualified technicians and mechanics provide a high-quality car service using standard original equipment or genuine parts for all types of vehicles. That's why customers can save time and money by using Service4Service rather than a main dealership.
How can Service4Service offer their customers such low prices on car servicing for all vehicle manufacturers and models?
Whether it's service, parts or labour, at Service4Service we can help customers make huge savings on main dealer prices. Simply use the form at the top of the page to find out how much you can save on the price of a car service. By using our local service centres and keeping a keen eye on our labour rates, we ensure we offer the most competitive prices possible for original equipment manufactured and warranty-approved parts for all vehicles.
Citroen Models We Service & Repair
Citroen AX
Citroen BX
Citroen CX
Citroen C-Zero
Citroen Cactus
Citroen C1
Citroen C2
Citroen C3
Citroen C4
Citroen C5
Citroen C6
Citroen C8
Citroen DS3
Citroen DS4
Citroen DS5
Citroen C - Crosser
Citroen Pluriel
Citroen Saxo
Citroen Synergie
Citroen Visa
Citroen Xantia
Citroen Xsara
Citroen Xsara
Citroen Picasso
Citroen XM
Citroen ZX
Citroen 2CV
Citroen Berlingo
Citroen Dispatch
Citroen Enterprise
Citroen Nemo
Citroen Relay
Our Features & Benefits
Our service centres use specialist computer diagnostic equipment to carry out a full health check of your vehicle
Our technicians fit Original Equipment Manufacturer (OEM) & manufacturer warranty-approved parts only
We will collect & deliver your vehicle either from home or at work at a time that suits you
Your vehicle will receive a high-quality service that fully protects your manufacturer's warranty
Your vehicle will be washed at no extra charge when you book a full service
How to Book a Service or Repair
Booking a service or a repair for your vehicle is a fast, hassle-free process.
Simply use our online booking form at the top of the page where you can easily follow our 4 step booking process.
Alternatively, you can call us on 0808 164 0418 and one of our friendly sales team will be able to help with your service or repair booking.
Recent Customer Reviews
Very pleased with the service provided. excellent value.
I am delighted with the level of service you provide. Nothing seems to be too much trouble and the result is a first-class service at a very good price. Keep up the good work.
Excellent service, my car had a full service and MOT much cheaper than the dealers, very happy with the service, the car came back very clean and sparking, have used you for the last two years and will continue to use you.
I thought your service was excellent. It was so incredibly helpful to have you pick up and drop off the car! I also thought it was great that you stuck to the price you quoted. Overall though, a great service and I will definitely be coming back next year. I have recommended you to friends that also have children as the collect and drop-off service is invaluable to parents. Many thanks once again.
I had my service and tyres done at the Guildford Branch, I was really impressed with the quality of there work and how professional your team are.
Fantastic Job, and true customer service, thanks to all for your help.
Amazing Company to deal with, saved me time and money, loved the collection service. Will use again.
From start to finish the service I received was polite, professional and effortless.
Thank you so much for servicing and MOT my car, i was impressed once again how clean my car came back, this is my second year in using you and will continue.
The service was absolutely brilliant. The staff (on the phone and picking up the car) were so friendly and helpful even though i made life awkward by having to change the pick up time at the last minute. Would definitely use again and recommend to friends. Thank you!
Why Use

Service4Service?
Guaranteed protection on your manufacturer's warranty
Vehicle collection and delivery
Full diagnostics and reprogramming
Service book stamped or digital service book updated
Manufacturers warranty protected
FREE wash (full service only)*
Vehicle health checks
12-month warranty on all parts
Price includes parts & labour for service
0% finance option
*Outside wash of vehicle only, subject to availability.