Warranty Claims Undertaken
0% Finance Available on Repairs
Safeguard Manufacturer's Warranty
Vehicle Collection Local to You
Browse the Latest Work from Our Specialist Repair Centres
Browse our gallery of some of the latest gearbox, transmission and engine repairs and replacements, from experienced technicians at our specialist repair centres local to you. Our technicians provide exceptional services for all makes and models.
Skoda

Service Intervals

Most car manufacturers make the following recommendations, although this depends on the age and mileage of the vehicle.

Interim Service - every 9,000 miles or 12 months
Full Service - every 12,000 miles or 12 months

Check your service interval display & service book for correct schedules. All mileages are approx.

Every service is completed with resetting your service light and stamping your service history book.
The Benefits of Our Car Service
What's included in a vehicle service?
Vehicle collection and delivery
Service book stamped or digital service book updated
Manufacturers warranty protected
FREE wash (full service only)
Vehicle health checks
12-month warranty on all parts
Price includes parts & labour for service
Local & Affordable Skoda Servicing & Repairs
Independent UK car servicing specialist, Service4Service, takes pride in offering affordable Skoda car servicing and repairs, local to you. Škoda is a Czech automobile manufacturer founded in 1895. Skoda became a wholly-owned subsidiary of the Volkswagen Group in 2000. Skoda's total global sales reached 1.13 million cars in 2016, which is why it deserves a service of equal standard to keep its maintenance optimal. Our dedicated team is committed to providing top-notch care for your vehicle. With a wealth of experience and expertise, we specialise in servicing and repairing Skoda cars to their optimal condition.
For most people, car servicing is a necessity rather than a luxury and it's something that needs to be done once a year or as the odometer clicks around. Unfortunately, it always seems like the expense comes at the wrong time of year, but of course, it's essential to keep your Skoda's service history in good order. At Service4Service we provide a quality car service for your Skoda, maintaining its optimal performance, safety and comfort, at a much lower price than found with any of the main dealers locally in your area. Whether it's routine maintenance, diagnostics, or intricate repairs, we handle each task with precision and efficiency. To make things as easy as possible for you, and to ensure your Skoda service doesn't impact your day, we offer a collection and delivery service for your vehicle. Either leave your car at home or at work and we'll collect it before dropping it home when the work is complete.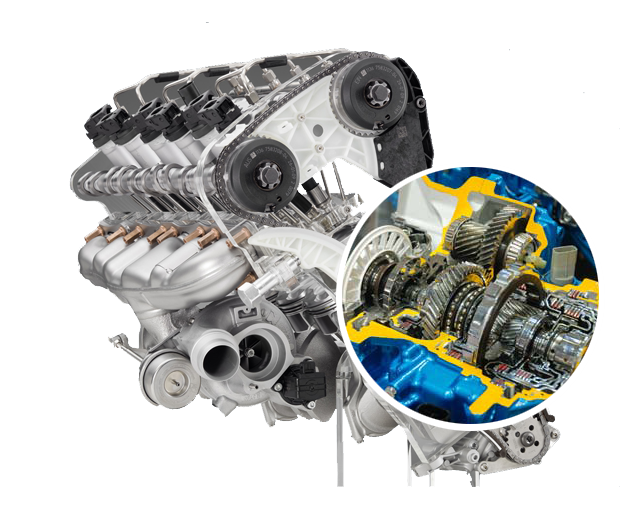 We Can Update Your Skoda Digital Service Record
For Skoda vehicles that keep a digital service record, Service4Service can make entries via the system. This means that your Skoda vehicle's service history is stored electronically in a secure database. Keeping a Skoda digital service record gives technicians a secure way to access your vehicle's history, whilst protecting your details. A Skoda digital service record also allows our technicians to provide you with a handy printout of any work completed or recommended. With expertise in Skoda models, we accurately record all service details, maintaining the integrity of your vehicle's history. Trust us to keep your digital service record up-to-date, reflecting the quality care your Skoda receives with each visit to our service centre.
We Only Use OEM or Manufacturer Warranty-Approved Parts
We guarantee that your Skoda will be serviced by highly skilled vehicle technicians using only OEM or manufacturer warranty-approved parts so that your car continues to perform the way the engineers who built it intended. Every Skoda service or repair is carried out to perfection, maintaining the integrity and performance of your vehicle. All of our Skoda services comply with EU block exemption laws so your manufacturer warranty is completely protected when your car is serviced in one of our specialist service centres, which means you can benefit from big savings on your service compared to main dealer prices. We prioritise transparency in our services, providing detailed explanations of any necessary repairs and offering competitive pricing without compromising on quality. Customer satisfaction is at the core of our ethos, and we strive to exceed expectations with every interaction.
✔ Warranty Claims Undertaken ✔ 0% Finance Options Available ✔ Free Recovery & Diagnostics ✔ 12-Month Guarantee
Looking for a Hassle-Free
Skoda

Repair?

You'll find that our technicians are happy and willing to repair almost any problem that your Skoda might have, from a damaged clutch to a difficult gearbox. We only ever replace parts with manufacturer's warranty-approved parts, so you can be sure that any replacements are like-for-like, and we offer a 12-month warranty on any Skoda repairs that we do.

Complete our Skoda repair enquiry form and await a call, or call us to speak to one of our specialist advisors on 0808 164 0418.
Spread the Cost with 0% Interest-Free Finance on Servicing & Repairs
At Service4Service we want to help ease the cost of your car service or any other unexpected vehicle repairs, by offering our customers the option to spread the cost of their repair bill over either four or ten months, interest-free with a choice of car repair payment plans.
4 months interest-free option
Car repair or servicing costs totalling over £350.
Spread the cost over 4 months interest-free.
You pay 25% of the total upon application.
The remaining 75% is spread over 3 equal monthly payments.
A valid UK debit card is required to arrange the payment plan.
10 months interest-free option
Car repair or servicing costs totalling over £1000.
Spread the cost over 10 months interest-free.
Deposit between 10% - 50%.
Finance subject to acceptance.
Credit and affordability checks carried out.
Skoda Servicing & Repairs FAQs
Understanding your Skoda's maintenance needs, and addressing issues promptly is key to maintaining your car's performance and reliability. If you have specific questions about your Skoda or a repair issue, don't hesitate to call Service4Service on 0808 164 0418 for guidance.
How often should I service my Skoda vehicle?
Service your Skoda vehicle as per manufacturer guidelines, typically every 10,000 to 15,000 miles or annually, adjusting for model and usage. Consult your owner's manual or a technician at Service4Service for personalised service intervals, ensuring optimal performance and longevity for your vehicle.
What is included in a Skoda service?
A Skoda service includes comprehensive checks like oil changes, inspections, fluid top-ups, and component assessments based on your vehicle's maintenance schedule. You can find out more here. Skoda's service protocols cover a range of tasks tailored to your car's specific needs, ensuring the proper functioning and longevity of its components.
Is routine servicing necessary even if my Skoda is running fine?
Absolutely, routine servicing for your Skoda is essential even if it appears problem-free. Regular maintenance prevents potential issues, maintains optimal performance, upholds warranty requirements, and extends the vehicle's lifespan, ensuring continued reliability and avoiding potentially costly repairs in the future.
How do I know if my Skoda needs an immediate repair?
Watch for signs like unusual noises, dashboard alerts, decreased performance, or changes in handling. These indications often signal underlying issues that need immediate attention. Any abrupt alterations in your Skoda's behaviour warrant prompt inspection by a skilled technician at Service4Service to prevent potential problems from worsening.
My Skoda won't start, what should I do?
If your Skoda vehicle won't start, this is a sign that something isn't right. We offer recovery for your Skoda vehicle to your local Service4Service repair centre and will run full diagnostics of your Skoda to determine the root of the problem. Following on from the diagnostics, we will put together a plan of work and cost that you can then approve. Our skilled technicians will then complete your Skoda repairs and get you back out on the road as soon as possible.
What are the most common issues with Skoda vehicles?
Skoda vehicles certainly have the automotive world divided, with some models more reliable than others. The Octavia in particular experiences issues with turbo, driveshaft vibration and rear wheel alignment, while other models also see issues with water in the passenger footwell, air conditioning noise and timing chain issues. If your Skoda is experiencing any issues that are in need of repair, our skilled technicians are on hand to help.
Can you update my Skoda Digital Service Record?
If your Skoda vehicle keeps a Digital Service Record (DSR), Service4Service can access and update this via the online system. Keeping and maintaining a Skoda digital service record makes accessing your vehicle's history simple for our technicians, while maintaining privacy and protection of your details in the meantime and removing the need for a logbook.
What parts will you use to repair my Skoda vehicle?
At Service4Service, we only utilise Original Equipment Manufacturer (OEM) and Manufacturer warranty-approved parts, ensuring that your vehicle maintains its warranty. We also offer a 12 months warranty on all work undertaken and parts fitted by our team, for extra peace of mind.
How is my manufacturer's warranty protected even though my vehicle is being serviced through Service4Service?
The 'Block Exemption' European legislation introduced in 2003 means we can service your vehicle without invalidating your manufacturer's warranty. Our fully qualified technicians and mechanics provide a high-quality car service using standard original equipment or genuine parts for all types of vehicles. That's why customers can save time and money by using Service4Service rather than a main dealership.
How can Service4Service offer their customers such low prices on car servicing for all vehicle manufacturers and models?
Whether it's service, parts or labour, at Service4Service we can help customers make huge savings on main dealer prices. Simply use the form at the top of the page to find out how much you can save on the price of a car service. By using our local service centres and keeping a keen eye on our labour rates, we ensure we offer the most competitive prices possible for original equipment manufactured and warranty-approved parts for all vehicles.
Skoda Models We Service & Repair
Skoda Estelle
Skoda Citigo
Skoda Fabia
Skoda Favorit
Skoda Felicia
Skoda Forman
Skoda Octavia
Skoda Rapid
Skoda Roomster
Skoda S Series
Our Features & Benefits
Our service centres use specialist computer diagnostic equipment to carry out a full health check of your vehicle
Our technicians fit Original Equipment Manufacturer (OEM) & manufacturer warranty-approved parts only
We will collect & deliver your vehicle either from home or at work at a time that suits you
Your vehicle will receive a high-quality service that fully protects your manufacturer's warranty
Your vehicle will be washed at no extra charge when you book a full service
How to Book a Service or Repair
Booking a service or a repair for your vehicle is a fast, hassle-free process.
Simply use our online booking form at the top of the page where you can easily follow our 4 step booking process.
Alternatively, you can call us on 0808 164 0418 and one of our friendly sales team will be able to help with your service or repair booking.
Recent Customer Reviews
Thank you for all your help with my car today. I've been having some problems with my car the last week or so now after spending the morning with you its now running fine. Thank you for sorting it all out for me.
Really good service, will be using you again and recommending to others.
Thanks for the service, picking it up from my place of work was a great help.
I would like to say "thank you" for your excellent and courteous service.
The easiest experience I've had and was well informed. My car is now running like a dream and this is all down to S4S. Couldn't be more happier. Well done Service4Service.
Why Use

Service4Service?
Guaranteed protection on your manufacturer's warranty
Vehicle collection and delivery
Full diagnostics and reprogramming
Service book stamped or digital service book updated
Manufacturers warranty protected
FREE wash (full service only)*
Vehicle health checks
12-month warranty on all parts
Price includes parts & labour for service
0% finance option
*Outside wash of vehicle only, subject to availability.