Warranty Claims Undertaken
0% Finance Available on Repairs
Safeguard Manufacturer's Warranty
Vehicle Collection Local to You
Browse the Latest Work from Our Specialist Repair Centres
Browse our gallery of some of the latest gearbox, transmission and engine repairs and replacements, from experienced technicians at our specialist repair centres local to you. Our technicians provide exceptional services for all makes and models.
Chrysler

Service Intervals

Most car manufacturers make the following recommendations, although this depends on the age and mileage of the vehicle.

Interim Service - every 9,000 miles or 12 months
Full Service - every 12,000 miles or 12 months

Check your service interval display & service book for correct schedules. All mileages are approx.

Every service is completed with resetting your service light and stamping your service history book.
The Benefits of Our Car Service
What's included in a vehicle service?
Vehicle collection and delivery
Service book stamped or digital service book updated
Manufacturers warranty protected
FREE wash (full service only)
Vehicle health checks
12-month warranty on all parts
Price includes parts & labour for service
Local & Affordable Chrysler Servicing & Repairs
Independent UK car servicing specialist, Service4Service, takes pride in offering affordable Chrysler car servicing & repairs, local to you. Servicing and repairs for Chrysler vehicles are crucial to maintaining their performance and longevity. Chrysler models, known for their innovation and quality, require regular maintenance to ensure they run smoothly. Chrysler is a luxury brand of sedans and minivans. The advanced engineering and testing that goes into Chrysler cars help to push this manufacturer towards the success they have achieved, which is why it deserves a service of equal standard to keep its maintenance optimal.
At Service4Service we provide a service for your car that meets those expectations and more, maintaining its optimal performance, safety and comfort, at a much lower price than found with any of the main dealers locally. Routine servicing involves oil changes, filter replacements, brake inspections, and fluid top-ups. These basic check-ups help prevent major issues and keep the engine running efficiently. Chrysler servicing also includes diagnostic tests to detect any underlying problems early on. Service4Service specialises in providing Chrysler servicing and Chrysler repairs across the UK. Our technicians are qualified to perform all types of vehicle services, as well as MOTs, vehicle health checks and Chrysler repairs, so regardless of what your car needs we can provide it all in one go, saving you both time and money!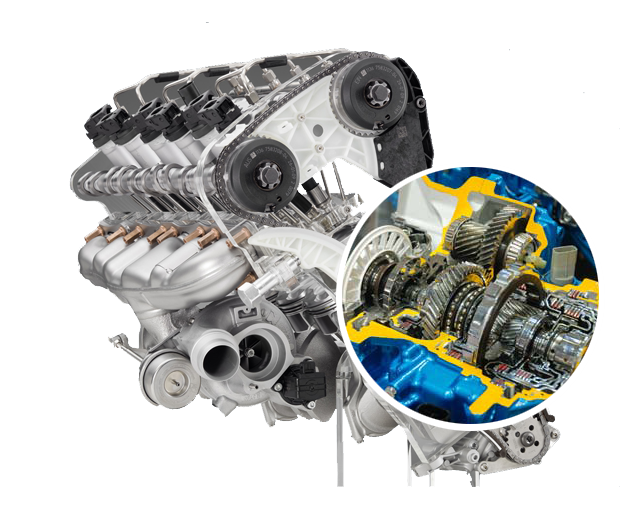 We Only Use OEM or Manufacturer Warranty-Approved Parts
Our skilled technicians equipped with knowledge of Chrysler's intricate systems and components can efficiently address issues like electrical faults, transmission problems, or engine issues. Using only OEM or manufacturer warranty-approved parts during repairs is vital to maintaining the vehicle's integrity and performance. Whether your Chrysler requires a new timing belt, exhaust, brake discs or brake pads, we only provide the best. We are so confident in both the parts we use and our technicians' skills we even offer a twelve-month warranty on all parts and labour.
We guarantee that your Chrysler will be serviced by highly skilled technicians so that your car continues to perform the way the engineers who built it intended. All of our Chrysler services comply with EU block exemption laws so your manufacturer warranty is completely protected when your car is serviced in one of our specialist service centres, which means you can benefit from big savings on your service compared to main dealer prices. We also offer many of our customers up to 65% off their Chrysler service compared to local main dealers. Whether you are based locally, in one of the areas that we cover, or a little further afield in a surrounding or nearby town, we are still able to service or repair your Chrysler and also offer a collection and delivery service to help make your day that little bit easier.
Regular servicing and prompt repairs not only enhance your Chrysler's reliability but also contribute to its resale value. Staying on top of maintenance schedules and promptly addressing any issues that arise can significantly extend the life of a Chrysler vehicle. Owners who prioritise servicing and repairs ensure their Chrysler continues to embody the brand's commitment to quality and innovation for years to come.
✔ Warranty Claims Undertaken ✔ 0% Finance Options Available ✔ Free Recovery & Diagnostics ✔ 12-Month Guarantee
Looking for a Hassle-Free
Chrysler

Repair?

You'll find that our technicians are happy and willing to repair almost any problem that your Chrysler might have, from a damaged clutch to a difficult gearbox. We only ever replace parts with manufacturer's warranty-approved parts, so you can be sure that any replacements are like-for-like, and we offer a 12-month warranty on any Chrysler repair that we do. You can also spread the cost with 0% interest-free finance available on Chrysler servicing and repairs.

Complete our Chrysler repair enquiry form and await a call, or call us to speak to one of our specialist advisors on 0808 164 0418.
Spread the Cost with 0% Interest-Free Finance on Servicing & Repairs
At Service4Service we want to help ease the cost of your car service or any other unexpected vehicle repairs, by offering our customers the option to spread the cost of their repair bill over either four or ten months, interest-free with a choice of car repair payment plans.
4 months interest-free option
Car repair or servicing costs totalling over £350.
Spread the cost over 4 months interest-free.
You pay 25% of the total upon application.
The remaining 75% is spread over 3 equal monthly payments.
A valid UK debit card is required to arrange the payment plan.
10 months interest-free option
Car repair or servicing costs totalling over £1000.
Spread the cost over 10 months interest-free.
Deposit between 10% - 50%.
Finance subject to acceptance.
Credit and affordability checks carried out.
Chrysler Servicing & Repairs FAQs
Understanding your Chrysler's maintenance needs, and addressing issues promptly are key to maintaining your car's performance and reliability. If you have specific questions about your Chrysler or a repair issue, don't hesitate to call Service4Service on 0808 164 0418 for guidance.
How often should I service my Chrysler?
Chrysler recommends regular servicing every 5,000 to 7,500 miles, but it's also advisable to follow the specific intervals mentioned in your vehicle's manual. Factors like driving habits and conditions might require more frequent check-ups.
What maintenance is crucial for Chrysler vehicles?
Regular oil changes, filter replacements, brake and tyre inspections, and fluid checks are fundamental maintenance tasks. Additionally, keeping an eye on the transmission system, electrical components, and suspension can prevent major issues.
How do I know if my Chrysler needs repairs?
Watch for warning signs like dashboard lights, strange noises, rough handling, decreased performance, leaks, or unusual smells. Any of these may indicate underlying issues requiring immediate attention. Regular inspections and prompt action when noticing these signs can prevent further damage to your Chrysler.
Is it safe to drive my Chrysler if I suspect a problem?
If you suspect any significant issue, especially with brakes, steering, or engine performance, avoid driving extensively. Continuing to drive might exacerbate the problem, posing safety risks. It's best to have your Chrysler inspected by Service4Service to ensure it's safe for the road.
My Chrysler gearbox is making a grinding noise, what should I do?
If your Chrysler's gearbox is making an unusual noise it could be a sign that something isn't right. We offer full diagnostics service to source the problem as well as Chrysler gearbox replacement if required. Following approval of the work and cost, we will undertake any Chrysler gearbox repairs needed at a servicing and repair centre local to you.
Will my Chrysler manufacturer warranty remain intact?
When repairing your Chrysler vehicle at Service4Service we use only Original Equipment Manufacturer (OEM) and manufacturer warranty-approved parts to ensure that any existing warranties remain intact on your vehicle. We also offer an additional 12 month warranty on any work or parts we use as part of your Chrysler repair.
How long will my Chrysler vehicle repair take?
When you book your Chrysler in with our team here at Service4Service, we will run full diagnostics to find the source of the issue in order to form the best plan for repair. We will always inform you of the work required and the cost, as well as the estimated time required for the repair. If at any point during your Chrysler repair we believe that it will take longer than initially estimated, we will keep you updated throughout the process.
What kind of Chrysler repairs do you offer?
Chrysler vehicles can run into a range of problems, but our skilled technicians are well versed in diagnosing and resolving any problems that arise. We offer Chrysler engine repairs, gearbox repairs, bodywork repairs, as well as repairs for turbo, clutch problems and more. We run full diagnostics to determine the cause of the problem your Chrysler is experiencing to get to the root of the problem and put together the best plan for the work required.
How is my manufacturer's warranty protected even though my vehicle is being serviced through Service4Service?
The 'Block Exemption' European legislation introduced in 2003 means we can service your vehicle without invalidating your manufacturer's warranty. Our fully qualified technicians and mechanics provide a high-quality car service using standard original equipment or genuine parts for all types of vehicles. That's why customers can save time and money by using Service4Service rather than a main dealership.
How can Service4Service offer their customers such low prices on car servicing for all vehicle manufacturers and models?
Whether it's service, parts or labour, at Service4Service we can help customers make huge savings on main dealer prices. Simply use the form at the top of the page to find out how much you can save on the price of a car service. By using our local service centres and keeping a keen eye on our labour rates, we ensure we offer the most competitive prices possible for original equipment manufactured and warranty-approved parts for all vehicles.
Chrysler Models We Service & Repair
Chrysler 300C
Chrysler Crossfire
Chrysler Delta
Chrysler Grand Voyager
Chrysler Neon
Chrysler PT Cruiser
Chrysler Sebring
Chrysler Stratus
Chrysler Voyager
Chrysler Ypsilon
Our Features & Benefits
Our service centres use specialist computer diagnostic equipment to carry out a full health check of your vehicle
Our technicians fit Original Equipment Manufacturer (OEM) & manufacturer warranty-approved parts only
We will collect & deliver your vehicle either from home or at work at a time that suits you
Your vehicle will receive a high-quality service that fully protects your manufacturer's warranty
Your vehicle will be washed at no extra charge when you book a full service
How to Book a Service or Repair
Booking a service or a repair for your vehicle is a fast, hassle-free process.
Simply use our online booking form at the top of the page where you can easily follow our 4 step booking process.
Alternatively, you can call us on 0808 164 0418 and one of our friendly sales team will be able to help with your service or repair booking.
Recent Customer Reviews
I am extremely happy with your service and customer service was brilliant. Thanks again
Being in business I understand the importance of accurate feedback from your customer and often the most uncomfortable feedback is the most valuable, feedback which is written just to sound nice is a waste of time.
But I am really sorry to say I can't honestly give you anything negative. In fact, I am extremely impressed with the whole service that you provide. Your website is good in that it is easy to use. After booking, the first contact with a 'real human' was very good. This is the moment when the customer starts to feel a little anxious about the company. (so many dodgy sites out there.) The man from the garage was very presentable, friendly and professional in his manner. Timekeeping was on the button (very rare). The cherry on the top was giving the car a clean before it came back, nice touch.
A true credit to what they say they do. Professional from beginning to end and cleaned my car.
Why Use

Service4Service?
Guaranteed protection on your manufacturer's warranty
Vehicle collection and delivery
Full diagnostics and reprogramming
Service book stamped or digital service book updated
Manufacturers warranty protected
FREE wash (full service only)*
Vehicle health checks
12-month warranty on all parts
Price includes parts & labour for service
0% finance option
*Outside wash of vehicle only, subject to availability.