Warranty Claims Undertaken
0% Finance Available on Repairs
Safeguard Manufacturer's Warranty
Vehicle Collection Local to You
Browse the Latest Work from Our Specialist Repair Centres
Browse our gallery of some of the latest gearbox, transmission and engine repairs and replacements, from experienced technicians at our specialist repair centres local to you. Our technicians provide exceptional services for all makes and models.
Audi

Service Intervals
Fixed Inspection (less than 10,000 miles per annum)
Interim Service - every 9,000 miles or 12 months
Full Service - every 19,000 miles or 24 months
Flexible Longlife (more than 10,000 miles per annum)
Interim Service - max. of every 19,000 miles or 24 months
Full Service - every 19,000 miles or 24 months
Check your service interval display & service book for correct schedules. All mileages are approx.
We Can Update Your Audi Digital Service Record
The Audi digital service record (DSB or digital service book) provides an online look at your vehicle's service history. These digital records can be easily accessed by servicing technicians for reference to the history of the vehicle and as the record is stored online there is no risk of it being lost. Service4Service also have access to record the servicing work on the system and can upload all service records to the database. This ensures that our customer's service record is always complete.
Local & Affordable Audi Servicing & Repairs
Independent UK car servicing specialist, Service4Service, take pride in offering affordable Audi servicing & Audi repairs, local to you. Audi is one of the world's most renowned car brands, with the famous company slogan "Vorsprung Durch Technik" which translates to "Progress through Technology", which is why it deserves a service of equal standard. We understand the importance of keeping your Audi performing at its best. With a reputation for precision engineering and cutting-edge technology, Audi vehicles deserve nothing less than top-tier care. Whether you drive a sporty A3, a luxurious Q7, or any other Audi model, our certified technicians have the expertise and genuine Audi parts to ensure your car remains in peak condition.
Service4Service can provide you with a quality Audi service, maintaining its optimal performance, safety and comfort, at a much lower price than found with any of the main dealers locally in your area. Worried about convenience? We offer online scheduling to fit your busy lifestyle and minimise downtime. Plus, we keep you informed throughout the service process, so there are no surprises. You can check out the list of models below, and if you don't see your model listed, don't panic! Simply send us an enquiry and one of our friendly sales team will be able to help.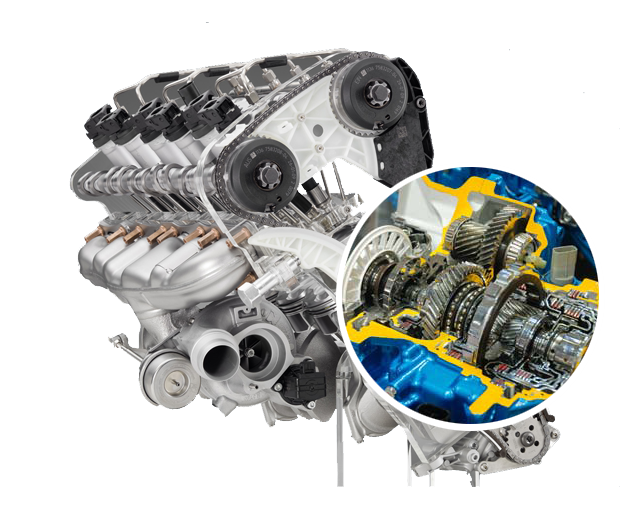 We Can Update Your Audi Digital Service Record
For too long, Audi owners have been tied to paper logbooks as the only way to record vehicle service records. All new Audi models have a digital service history available to access online so that you can easily identify when your next service is due. The Audi digital service record allows you to easily access proof of past services, should work be required under warranty. Your Audi's service history will be updated each time that you use Service4Service for your Audi servicing so that you no longer require a logbook and can now check all of your vehicle's service records online at any time.
We Only Use OEM or Manufacturer Warranty-Approved Parts
Our state-of-the-art servicing and repair centres are equipped with the latest diagnostic tools, and our team is dedicated to delivering the highest standards of service. From routine maintenance such as oil changes and brake inspections to more complex engine repairs, we've got your Audi covered. We strictly follow Audi's recommended service schedule to optimise your car's longevity and maintain its warranty. We guarantee that your Audi service will be conducted by fully qualified vehicle technicians using only OEM or manufacturer warranty-approved parts so that your car continues to perform the way the engineers who built it intended. All of our Audi services comply with EU block exemption laws so your manufacturer warranty is completely protected when your car is serviced with us, which means you can benefit from big savings on your car servicing and repairs compared to main dealer prices.
We can arrange a service and repair for all models. It's a common misconception that good Audi service needs to be expensive. At Service4Service we can offer quality servicing but for up to a 65% discount on the price that you'd typically expect from a main dealer. Your Audi deserves nothing less than the best, and that's precisely what we deliver.
✔ Warranty Claims Undertaken ✔ 0% Finance Options Available ✔ Free Recovery & Diagnostics ✔ 12-Month Guarantee
Looking for a Hassle-Free
Audi

Repair?

You'll find that our technicians are happy and willing to repair almost any problem that your Audi might have, from a damaged clutch to a difficult gearbox. We only ever replace parts with manufacturer's warranty-approved parts, so you can be sure that any replacements are like-for-like, and we offer a 12-month warranty on any Audi repairs that we do. You can also spread the cost with 0% interest-free finance available on Audi servicing and repairs.

Complete our Audi repair enquiry form and await a call, or call us to speak to one of our specialist advisors on 0808 164 0418.
Spread the Cost with 0% Interest-Free Finance on Servicing & Repairs
At Service4Service we want to help ease the cost of your car service or any other unexpected vehicle repairs, by offering our customers the option to spread the cost of their repair bill over either four or ten months, interest-free with a choice of car repair payment plans.
4 months interest-free option
Car repair or servicing costs totalling over £350.
Spread the cost over 4 months interest-free.
You pay 25% of the total upon application.
The remaining 75% is spread over 3 equal monthly payments.
A valid UK debit card is required to arrange the payment plan.
10 months interest-free option
Car repair or servicing costs totalling over £1000.
Spread the cost over 10 months interest-free.
Deposit between 10% - 50%.
Finance subject to acceptance.
Credit and affordability checks carried out.
Audi Servicing & Repairs FAQs
Understanding your Audi's maintenance needs, and addressing issues promptly are key to maintaining your car's performance and reliability. If you have specific questions about your Audi or a repair issue, don't hesitate to call Service4Service on 0808 164 0418 for guidance.
What is the recommended service schedule for my Audi?
Audi's recommended service schedule typically includes regular maintenance at specific mileage intervals, displayed at the top of this page, however, it's important to consult your owner's manual or contact your Audi dealership for a precise schedule.
How do I know if my Audi needs servicing or repairs?
Look for warning lights on the dashboard, unusual noises, reduced performance, or other signs of mechanical issues. Regular maintenance is also essential to prevent problems from occurring.
What types of Audi repairs can you carry out?
We provide several types of Audi repair including Audi engine repairs and reprogramming, Audi gearbox and transmission repairs, Audi turbochargers and even Audi bodywork repair. Our fully qualified technicians fit Original Equipment Manufacturer (OEM) or warranty-approved parts only and all of our parts and labour come with a 12-month guarantee.
Can you update my Audi digital service record?
It is important to keep your Audi servicing and maintenance record up-to-date and the Audi Digital Service Schedule will ensure that this is kept as accurate and secure as possible. This is used for the life of your car and saved chronologically in a secure centralised system, removing the necessity to present a service logbook during your service with us.
What are the most common issues with Audi Vehicles?
Despite being luxurious and powerful, Audi vehicles have their fair share of common issues that see them sent to the Service4Service for repair. From oil leaks to spark plug and timing belt issues to rattling engines, many of these issues are relatively simple to repair for the skilled technicians at Service4Service.
My Audi is making a strange noise, what should I do?
If your Audi is making an unusual noise it could be a sign that something isn't right. We offer full Audi diagnostics service to source the problem as well as Audi repairs if required. Following approval of the work and cost, we will undertake the repairs at a servicing and repair centre local to you.
How often should I change the oil in my Audi?
Oil change intervals can vary depending on your Audi model and engine type. In general, it's recommended to change the oil every 7,500 to 10,000 miles, but refer to your owner's manual for the exact frequency.
Do I need to service my Audi even if it's running fine?
Yes, regular servicing and maintenance of your vehicle is crucial to keep your Audi in good condition and to identify and address potential issues before they become major problems, which could become costly if ignored.
How is my manufacturer's warranty protected even though my vehicle is being serviced through Service4Service?
The 'Block Exemption' European legislation introduced in 2003 means we can service your vehicle without invalidating your manufacturer's warranty. Our fully qualified technicians and mechanics provide a high-quality car service using standard original equipment or genuine parts for all types of vehicles. That's why customers can save time and money by using Service4Service rather than a main dealership.
How can Service4Service offer their customers such low prices on car servicing for all vehicle manufacturers and models?
Whether it's service, parts or labour, at Service4Service we can help customers make huge savings on main dealer prices. Simply use the form at the top of the page to find out how much you can save on the price of a car service. By using our local service centres and keeping a keen eye on our labour rates, we ensure we offer the most competitive prices possible for original equipment manufactured and warranty-approved parts for all vehicles.
Audi Models We Service & Repair
Audi A2
Audi A3
Audi A4
Audi A5
Audi A6
Audi A8
Audi A1
Audi A7
Audi Q3
Audi RS3
Audi A3 e-Tron
Audi S1
Audi RSQ3
Audi Q5
Audi Q7
Audi RS4
Audi RS5
Audi RS6
Audi RS7
Audi R8
Audi S3
Audi S4
Audi S5
Audi S6
Audi S7
Audi S8
Audi SQ5
Audi TT
Audi TTS
Audi TTRS
Audi 80
Audi 90
Audi 100
Audi 200
Our Features & Benefits
Our service centres use specialist computer diagnostic equipment to carry out a full health check of your vehicle
Our technicians fit Original Equipment Manufacturer (OEM) & manufacturer warranty-approved parts only
We will collect & deliver your vehicle either from home or at work at a time that suits you
Your vehicle will receive a high-quality service that fully protects your manufacturer's warranty
Your vehicle will be washed at no extra charge when you book a full service
How to Book a Service or Repair
Booking a service or a repair for your vehicle is a fast, hassle-free process.
Simply use our online booking form at the top of the page where you can easily follow our 4 step booking process.
Alternatively, you can call us on 0808 164 0418 and one of our friendly sales team will be able to help with your service or repair booking.
Recent Customer Reviews
The same as last yr - absolutely perfect service, kept informed all the way along and delightful company. I'm looking forward to using you next year.
Fantastic service and staff. Nothing is too much trouble for them! If they can help, they will. Ten out of ten!
Excellent service! Aaron is the best. They repaired a Q2 gearbox without any problem. Highly recommend.
I wanted to drop you a note to say thank you very much for the great service i have received- my Audi A4 was serviced today with the addition of 2 new tyres- the car has been returned in tip top condition, washed and cleaned, the people who collected my car were very helpful and ensured the vehicle was returned in time for me to pick the children up! All this and a big saving on the quote i had from my local Audi dealer, who are never so courteous- i will certainly use Service4Service in the future.
Thank you for a swift, flexible and accomodating service. It was very pleasing to find your staff at all stages of the process polite efficient and accommodation of my needs. All in all a good customer offer and I'm a satisfied customer. Thank you.
A great service thank you. You deliver exactly what you promise, which is a rare thing these days!
I am very happy with your service as always and speak to you again in 12 months. Thanks for looking after my car.
Always very helpful and keep you up to date with what is happening.
Just wanted to say how efficient and courteous the services was. Great value for money and the car was immaculate on its return both inside and out. Excellent Service. Will use again.
Thank you for an excellent experience. Car had the annual service and MOT as exactly outlined on your web page. For once, first class customer care!
Thank you for very good customer service.
Thank you - also thank you to your staff for being so helpful over the phone. A good experience with Service 4 Service.
Everything was completed as agreed. Great customer service. Will be using again.
I was very pleased with service.
I found service for service very convenient. The booking is very easy, they come to collect your car at your convenience, service it and bring it back with all the relevant paper work at a time that suits you and a car wash as a bonus. Highly recommended.
Thank you for a wonderful experience. I would like to compliment the level of service I received from service4service. My wife and I work full time in high pressure enviroments, and hence chose you because you could pick the car up! You made the process seamless and stress free. I would certainly recommend the company to my friends and family. I will definitely use you again. Service4service is really about service.
I used your service for the first time to service my Audi A5. I have to say I was extremely impressed with the level of service and all the work was completed to exact standards at a fraction of the price Audi main dealers charge. I will certainly be using you again.
Used you twice in the last 12 months, and recommended you to friends as well. Pick up and drop off service is great, even when I wasn't available on one occasion to sort the bill out. Great value for money I certainly won't be getting ripped off by a main dealer again.
Can't fault your service and the work done by the garage was spot on, car is perfect.
A very good company to deal with and one that I will defo recommend.
A very professional job and the garage you work with were excellent too, which has given me lots of confidence to come back and use you again.
Service all carried out well and carried picked up and returned....icing on the cake would have been the wash and vac which wasn't done but none to say the car was serviced good.
Used your service and bought a full service. Dropped my car into the garage who were polite and then collected where it was waiting for me. *****
Very good idea and excellent service. Treated me and my car very well. Thank you.
Hi, thanks very much for a good service and something I will happily recommend.
Very efficient which is nice to have. All promises kept and no hidden surprises....with the service advisor very polite. Thank you for a top service and I'll be back next year. Thanks.
I would like to thank you for a good experience and for helping me with my car. I knew there were a few issues with it, but purposely didn't say, to see if the job was done properly, and you proved me right. A thorough job well done and nice to have it cleaned before returning to me.
Thank you for looking after my little pride and joy!
I thought I would share my experience as I normally carry out any work with the main dealer, I opted to use you after a little researching on the Internet and since the vehicle is now out of manufacture warranty, I was unaware but was advised that I could of still had you service the vehicle within the warranty period. You came to collect the vehicle and took it to carry out the service, called in the afternoon to update and advise the car was just requiring the service. Car came back to me later that day wash and hoovered. Top service!!!
Thanks very much! Everything has been great. Cheers.
I wanted to drop you a note to say thank you very much for the great service i have received- my Audi A4 was serviced today with the addition of 2 new tyres- the car has been returned in tip top condition, washed and cleaned, the people who collected my car were very helpful and ensured the vehicle was returned in time for me to pick the children up! All this and a big saving on the quote i had from my local Audi dealer, who are never so courteous- i will certainly use Service4Service in the future.
I can honestly say that the service was great. The company you sent could not have been better. They were extremely helpful and professional. The guy even recognized that my car sits near a tree overnight and, although not obvious to the naked eye, he showed me how to feel the car body for tree sap deposits (which reduces the shine) and gave advice on how to remove it.

Running our own busy companies, it was ideal that the car was picked up
and brought back to the office and the service was extremely reasonably
priced. I would definitely use your service again.
Why Use

Service4Service?
Guaranteed protection on your manufacturer's warranty
Vehicle collection and delivery
Full diagnostics and reprogramming
Service book stamped or digital service book updated
Manufacturers warranty protected
FREE wash (full service only)*
Vehicle health checks
12-month warranty on all parts
Price includes parts & labour for service
0% finance option
*Outside wash of vehicle only, subject to availability.