Warranty Claims Undertaken
0% Finance Available on Repairs
Free Recovery &
Diagnostics (terms apply)
12 Month Guarantee Across All Vehicles
Browse the Latest Work from Our Specialist Repair Centres
Browse our gallery of some of the latest gearbox, transmission and engine repairs and replacements, from experienced technicians at our specialist repair centres local to you. Our technicians provide exceptional services for all makes and models.
Diesel Engine & Petrol Engine Repairs
Guaranteed protection on your manufacturer's warranty
Timing belt repairs
Head gasket repairs
Engine rebuilds
Engine reconditioning
Diagnostic analysis
Full repairs with re-programming
Common Engine Problems
Timing chain / Camshaft belt issues
Oil pump or fuel pump issues
Valve damage or piston ring repair
Overheating
Loss of oil or coolant
Smoking engine
Engine rattling
Running in limp mode
Engine management lights on
Worn spark plugs
Blocked or contaminated air filters
The Benefits of Our Engine Repairs
All major manufacturers & models
Warranty companies/claims undertaken
Vehicle collection
Full engine diagnostics & reprogramming
Petrol & diesel engine repairs, upgrades & rebuilds
Manufacturers warranty protected
0% Finance option
Head gaskets & spark plugs
Cambelts & timing belts
Turbochargers & injectors
Diesel particulate filters (DPFs)
Engine

Rebuild Specialists

An engine rebuild is a comprehensive process in which an existing engine is disassembled, inspected, and then reconditioned or repaired to restore it to like-new or improved condition. This process is typically performed when an engine has suffered significant wear and tear, or damage, or is not performing up to the desired standard.

Service4Service offer a comprehensive engine rebuild service. You are able to spread the cost with one of our 4-month or 12-month interest-free finance options! With years of experience, our technicians can rebuild and recondition your existing engine using the latest technology. All engine rebuilds and repairs also come with a 12-month guarantee.
Car Engine Repairs, Rebuilds & Diagnostics for All Major Manufacturers
The engine is a critical component of a car, and when it experiences problems, it can affect the vehicle's performance, fuel efficiency, and overall reliability. If you want to keep your vehicle in its best shape for as long as possible, it's important to take care of the engine. Engine problems can manifest in various ways, such as strange noises, warning lights on the dashboard, decreased power, rough idling, or poor fuel efficiency. Common engine issues include oil leaks, overheating, misfiring, and worn-out or damaged components. It's crucial to address engine problems promptly to prevent further damage and ensure safe and reliable vehicle operation. Regular maintenance can help minimise the need for major engine repairs and will ensure that your engine not only performs well but can extend its lifespan for years to come.
The skilled and experienced automotive technicians at Service4Service are best suited to diagnose and perform engine repairs to maintain your vehicle's performance and longevity, providing high-quality engine repair for affordable prices. Whether you have a petrol or diesel engine, our technicians are able to perform all kinds of car engine repairs and upgrades for all major manufacturers and models. Regular maintenance, such as scheduled tune-ups and inspections, can help prevent major engine issues. This includes checking and replacing spark plugs, ignition wires, and other wear-prone components. Our trained technicians provide full engine diagnostics. We only use the most advanced engine parts, OEM or manufacturer-warranty approved, to ensure that our customers' vehicles remain in top condition.
✔ Warranty Claims Undertaken ✔ 0% Finance Options Available ✔ Free Recovery & Diagnostics ✔ 12-Month Guarantee

Audi Engines
Audi engine repairs including TDI (Turbocharged Direct Injection) Audi's current common rail direct injection turbodiesel engine range.

Mercedes Engines
Mercedes engine repairs, reconditioning, upgrades and rebuilds including petrol and diesel Mercedes-Benz & AMG engines.

BMW Engines
BMW engine repairs including inline-four, inline-three and four turbo, straight-six, straight-six turbo, V8 to V12 engines.

Land Rover Engines
Land Rover engine repairs and rebuilds including TDI, 4-cylinder petrol engines, 5 cylinder diesel engines & 6-cylinder engines.

Ford Engines
We can fully diagnose issues and provide Ford engine repairs including EcoBoost petrol and EcoBlue diesel engines.

VW Engines
Volkswagen engine repairs and diagnostics including TDI & SDI diesel engines and 3, 4, 5, 6, 8,10 & 12 cylinder engines.
Engine

Diagnostics
The engine is the heart of your vehicle, which is why if something goes wrong it can often be expensive to fix. There are some common warnings you should also look out for such as your car backfiring, stalling at odd intervals or not starting properly. There are some engine components that are more likely to break than others. The first step in engine repair is diagnosing the problem. In order to determine the best way to repair your engine, all of our garages use advanced engine diagnostics, quickly allowing our technicians to understand the work that needs to be carried out.
The skilled automotive technicians at Service4Service use diagnostic tools and equipment to scan the engine's onboard computer (if applicable) for error codes and perform various tests to identify the issue. Visual inspections and listening for unusual sounds are also essential diagnostic methods.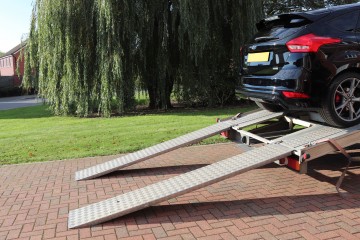 Free Vehicle Recovery & Diagnostics
Subject to our terms & conditions.
Our professional staff will book your service or repair at one of our centres local to you, arranging for your vehicle to be collected from a location that suits you. If any additional or advised work is required, we'll always call you first. We will not undertake work without your authorisation. There is a 12-month warranty on all parts and labour and your existing manufacturer's warranty is protected.
Please click the button below to make an enquiry or call us on 0808 164 0418 to book a repair, local to you, with a specialist technician at Service4Service.
How Our Car Repairs Work
Complete our repair enquiry form and await a call, or call us to speak to one of our specialist advisors on 0808 164 0418.
We'll try to estimate the issue with your vehicle, based upon the information you provide, along with approximate repair costs. Before inspecting the vehicle, all we can do estimate the faults and costs.
We will arrange for your vehicle to be recovered into one of our specialist repairs centres in order to give a full diagnosis of the problem and exact costs.
Should you proceed with major repairs* then the costs incurred for both the diagnostic checks and the vehicle recovery will be reduced to £0! We don't charge more than repair costs when our customers go ahead with major works with us!
Diagnostic reports are usually available on the next working day, we don't want to leave people wondering.
We work will all the major warranty companies and will process the claim on your behalf to save you additional stress at difficult times.
We will let you know if there is likely to be any delays to the estimated repair times.
When repairs are complete and final payments are made or finance agreements are in place, we will attempt to return your vehicle by the end of the following working day.
You will have an invoice detailing the work completed, including our warranty of 12 months or 12000 miles.
Engine Repair FAQs
Understanding your vehicle's maintenance needs, and addressing issues promptly are key to maintaining your car's performance and reliability. If you have specific questions about your vehicle or a repair issue, don't hesitate to call Service4Service on 0808 164 0418 for guidance.
How do I know if my car's engine needs repairs?
Common signs that your car's engine may need repair include unusual noises, warning lights on the dashboard, decreased power or acceleration, rough idling, poor fuel efficiency, or visible fluid leaks.
What equipment do you use to repair car engines?
At Service4Service, we can confidently diagnose any engine issues using the latest computer diagnostic equipment, repairing and replacing only the things that require it, using industry-approved tools and parts.
Is it safe to drive my car with an engine problem?
It's generally not recommended to drive your car if you suspect it has a significant engine problem. Continuing to drive with an engine issue can cause further damage, potentially leading to more costly repairs or safety hazards.
Why might my vehicle need a new engine?
If your vehicle has a high-mileage the engine may have suffered significant wear and tear. You might find an oil leak occurs due to a worn cylinder ring, or perhaps the head gasket has blown. If engine issues like these are ignored, the damage caused will be unrepairable.
What types of engine repairs can you carry out?
We provide several options to rectify a faulty engine including reconditioning your existing engine, replacing with a new engine or replacing with a reconditioned engine. Our specialist technicians only fit Original Equipment Manufacturer (OEM) approved parts only and all engine repairs come with a 12-month guarantee.
How can I tell if my engine has blown?
There are some tell-tale signs to look out for if you think that your engine has blown. The vehicle will regularly overheat, there will be a drop in oil pressure and clunking sounds coming from under the bonnet. However, these can also be symptoms of other issues. Book your car in with one of our specialist technicians if you suspect any engine issues.
What should I do if I think there is water in my engine?
If you suspect that there may be water in the engine, it's vital to have this checked before you drive your car again. Water in the engine can reach the spark plugs and ultimately stop them from being usable or it can lead to serious issues, such as hydrolock, which occurs when water enters the combustion chambers and prevents the engine from turning over.
Why is my engine coolant leaking?
If you've noticed your engine coolant leaking, this could be caused by a number of things but most commonly are caused by damaged radiator caps, hoses, the radiator itself, a faulty head gasket or the coolant reservoir. Some leaks aren't often noticeable as they don't tend to form pools on the ground.
How often should spark plugs be replaced?
Most spark plugs tend to last around 30,000 miles before needing to be replaced. If you're unsure, you should check your owner's manual to determine the right time frame, as well as considering the nature of your vehicle – if it's high performance, spark plugs can wear out sooner.
How often should the air filter be replaced?
The air filters should be replaced relatively regularly to ensure that the vehicle remains clean of contaminants and other blockages or issues. This can be found in the owner's manual, but typically you should change the engine air filter around every 15-30,000 miles depending on the conditions you drive in.
How much does engine repair cost?
The cost of engine repairs can vary widely depending on the specific problem, the make and model of your vehicle, labour rates in your area, and the cost of replacement parts. Minor repairs like changing spark plugs may be relatively inexpensive, while major repairs or engine replacements can sometimes be costly. We offer finance deals for engine repairs over £350.
What is the difference between engine repair and rebuild?
Engine repair typically involves fixing specific issues within the existing engine, such as replacing worn-out components. Engine rebuilding, on the other hand, involves disassembling the engine, inspecting and replacing worn parts, and reassembling it to like-new or improved condition.
How often should I have my engine serviced or tuned up?
The frequency of engine servicing or tune-ups depends on your vehicle's make and model, as well as the manufacturer's recommendations. In general, most vehicles benefit from regular tune-ups every 30,000 to 60,000 miles, but consult your owner's manual for specific guidelines.
What should I do if my engine overheats?
If your engine overheats, it's essential to pull over safely and turn off the engine immediately. Continuing to drive can cause severe damage. Allow the engine to cool down before opening the hood, and then check for coolant leaks, low coolant levels, or other issues. If necessary, contact us to have your vehicle collected and taken to the nearest repair centre.
Spread the Cost with 0% Interest-Free Finance on Servicing & Repairs
At Service4Service we want to help ease the cost of your car service or any other unexpected vehicle repairs, by offering our customers the option to spread the cost of their repair bill over either four or ten months, interest-free with a choice of car repair payment plans.
4 months interest-free option
Car repair or servicing costs totalling over £350.
Spread the cost over 4 months interest-free.
You pay 25% of the total upon application.
The remaining 75% is spread over 3 equal monthly payments.
A valid UK debit card is required to arrange the payment plan.
10 months interest-free option
Car repair or servicing costs totalling over £1000.
Spread the cost over 10 months interest-free.
Deposit between 10% - 50%.
Finance subject to acceptance.
Credit and affordability checks carried out.
Engine Configuration
The configuration or layout of an engine varies from vehicle to vehicle for a number of reasons – for some, it'll depend on the shape of the car, for others, it may be because of fuel efficiency or performance. Some of the most common configurations include:
Straight – Straight engine layouts typically see the cylinders positioned parallel to the car from the front to back of the engine bay with the cylinders pointing upwards. We usually see this kind of layout in high end, premium cars.
Inline – Inline engines are similar to straight engine layouts, however, the cylinders are usually arranged perpendicular to the car instead. This kind of engine is typically seen in smaller cars, particularly hatchbacks.
V – The V engine is arranged in a way that looks like the letter 'V' when looked at from the front. The cylinders typically face outwards but drive a common crankshaft at their base. These engines are common in high-performance cars.
Flat/Boxer – Flat engine layouts feature cylinders that are mounted horizontally, usually with two rows facing outwards. They aren't a common choice, but Porsche is well known for its flat-six engine.
Rotary – Rotary engines are no longer a common choice for engines, but some older cars may still operate with them. They don't have pistons like standard engines – they instead use a triangular rotor that spins inside one large cylinder. It offers smooth power delivery but can be expensive to make and install, as well as expensive to maintain and repair.
Engine Cylinders
The number of cylinders and their arrangement in an engine can affect performance, fuel efficiency and more. More powerful vehicles, for example, are likely to have a higher number of cylinders but can be noisier as a result. The cylinder configurations include:
Twin Cylinder – Two-cylinder engines aren't produced anymore in new vehicles due to their small capacity and limited power, however older vehicles, particularly the Fiat 500, still operate using them.
Three – Three-cylinder engines are most commonly seen in smaller cars and can be turbocharged to offer a bit more of a powerful punch for some models.
Four – Four-cylinder engines are the most common arrangement available in cars today. They will typically be found in a straight or inline configuration.
Five – Five cylinder engines are relatively rare, not least because of the unusual sound caused by an uneven firing order. You can find them in older Volvos and some Audi RS3 and RS Q3 models.
Six – Six-cylinder engines are typically reserved for premium cars and top-level supercars. They pack a powerful punch even without turbo and make a louder, higher-pitched sound than configurations with fewer cylinders. They are typically available in both straight, and V-formations.
Eight+ – Configurations above six cylinders are usually saved for supercars and luxury vehicles. The V8, V10 and V12 units are most common, however, up to 16 cylinders have been seen in Bugatti vehicles.
Recent Customer Reviews
I will be using you again. Everything was so easy, I was very impressed with the customer service I received and the driver who collected my car was very helpful. The fact that I was notified before any extra work was carried out gave me the confidence that I wouldnt be lumbered with a big bill for work I wasnt aware of.
Thanks for all your help with my MOT, a very convenient and professional service.
Paul provided a friendly and helpful service and I will remember this for the future. The garage that carried out the repairs is close to where I work so convenient. Thank you.
I would like to say that I am very impressed with the service I received from Service 4 service. I saved over 1000 on repairs to my 3 year old BMW 120SE.; I have passed on your details to friends and family and will be using your service in future.
Just a quick note that the service was successfully executed today, we enjoyed how easy the process was.