Warranty Claims Undertaken
0% Finance Available on Repairs
Safeguard Manufacturer's Warranty
Vehicle Collection Local to You
Browse the Latest Work from Our Specialist Repair Centres
Browse our gallery of some of the latest gearbox, transmission and engine repairs and replacements, from experienced technicians at our specialist repair centres local to you. Our technicians provide exceptional services for all makes and models.
BMW

Service Intervals

Inspection l (Interim Service) - every 8,000 miles or 12 months
Inspection ll (Full Service) - every 12,000 miles or 12 months
Condition-Based Service (CBS) - if your BMW has an i-Drive System
If you regularly drive long journeys or have high mileage:
Oil Service - every 12,000 miles or 6 months

Check your service interval display & service book for correct schedules. All mileages are approx. Every service is completed with resetting your service light and stamping your service history book or updating your digital service book.
We Can Update Your BMW Digital Service Schedule
All newer BMW models now use electronic service history records, meaning that the onboard computer is responsible for maintaining the service history of the BMW, so you no longer need a separate logbook. The electronic service history is updated by our technicians during your BMW service, which can then be seen on the vehicles digital display. This allows for a digital servicing record that is also easy for the customers to access. It is located under "Service History" in the on-screen menu.
Local & Affordable BMW Servicing & Repairs
Independent UK car servicing specialist, Service4Service, take pride in offering affordable BMW car servicing & repairs, local to you. BMW produces cars, motorcycles and plug-in electric cars and has been listed as the #1 most reputable company in the world by Forbes. The BMW vehicle is a prestigious piece of German engineering that is globally recognised as a luxury, high-performance vehicle which is why it deserves a service of equal standard to keep its maintenance optimal. When it comes to the care of your beloved BMW, precision, expertise, and dedication are non-negotiable. At Service4Service, we've made it our mission to provide you with unparalleled service that matches the exceptional standards set by the iconic BMW brand. Our team are well-versed in the intricacies of BMW's engineering and technology, ensuring that your vehicle receives the attention it deserves.
At Service4Service we provide a quality car service for your BMW, maintaining its optimal performance, safety and comfort, at a much lower price than found with any of the main dealers locally in your area. From routine maintenance tasks like oil changes and brake inspections to complex engine repairs, we cover the entire spectrum of BMW servicing. Whether you drive a sporty 3 Series or a luxurious X5, our expertise is tailored to meet your specific model's needs. To make things as easy as possible for you, and to ensure your BMW service doesn't impact your day, we offer a collection and delivery service for your vehicle. Either leave your car at home or work and we'll collect it before dropping it home when the work is complete.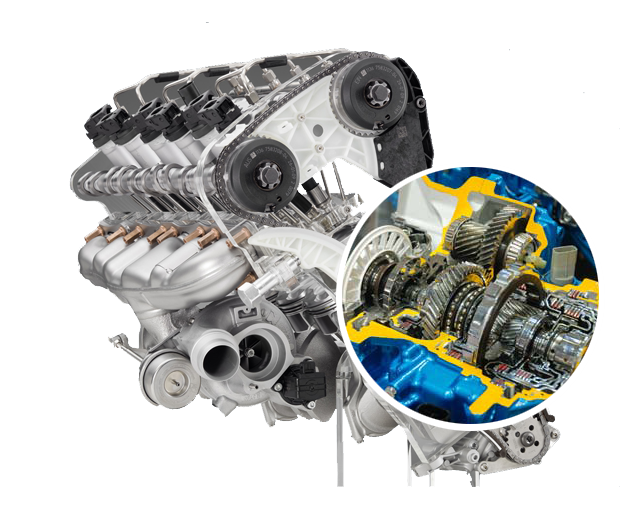 We Can Update Your BMW Digital Service Record
We understand the importance of a meticulously maintained BMW service record, and our team of highly qualified technicians are here to ensure it's always up to date. Using cutting-edge BMW technology, we meticulously update your vehicle's digital service history, including maintenance and repairs. This not only helps maintain your vehicle's value but also ensures your warranty remains intact. When you choose Service4Service, you drive with confidence, knowing your BMW's service history is accurate and readily available when you need it. The BMW digital service record allows you to easily access proof of past services, should work be required under warranty.
We Only Use OEM or Manufacturer Warranty-Approved Parts
We guarantee that your BMW service will be conducted by fully qualified vehicle technicians using only OEM or manufacturer warranty-approved parts so that your car continues to perform the way the engineers who built it intended. We can assist you with all BMW Service Inspections including Oil Service, Inspection II, Inspection I, and Condition-Based Servicing (CBS). BMW may recommend replacing other items based on the mileage of your car and we can advise you. We service and repair all models of BMW. You can check out the list of BMW models we service & repair below, if you don't see your model listed, don't panic! Simply send us an enquiry and one of our friendly sales team will be able to let you know if we can help.
Your BMW deserves nothing less than the best, and that's precisely what we deliver. Trust your BMW servicing and repairs to Service4Service and experience the difference in excellence and commitment. Drive with confidence, knowing your BMW is in the hands of experts who share your passion for these extraordinary vehicles. Schedule your service appointment today and ensure your BMW continues to run like a dream.
✔ Warranty Claims Undertaken ✔ 0% Finance Options Available ✔ Free Recovery & Diagnostics ✔ 12-Month Guarantee
Looking for a Hassle-Free
BMW

Repair?

You'll find that our technicians are happy and willing to repair almost any problem that your BMW might have, from a damaged clutch to a difficult gearbox. We only ever replace parts with manufacturer's warranty-approved parts, so you can be sure that any replacements are like-for-like, and we offer a 12-month warranty on any BMW repairs that we do. You can also spread the cost with 0% interest-free finance available on BMW servicing and repairs.

Complete our BMW repair enquiry form and await a call, or call us to speak to one of our specialist advisors on 0808 164 0418.
Spread the Cost with 0% Interest-Free Finance on Servicing & Repairs
At Service4Service we want to help ease the cost of your car service or any other unexpected vehicle repairs, by offering our customers the option to spread the cost of their repair bill over either four or ten months, interest-free with a choice of car repair payment plans.
4 months interest-free option
Car repair or servicing costs totalling over £350.
Spread the cost over 4 months interest-free.
You pay 25% of the total upon application.
The remaining 75% is spread over 3 equal monthly payments.
A valid UK debit card is required to arrange the payment plan.
10 months interest-free option
Car repair or servicing costs totalling over £1000.
Spread the cost over 10 months interest-free.
Deposit between 10% - 50%.
Finance subject to acceptance.
Credit and affordability checks carried out.
BMW Servicing & Repairs FAQs
Understanding your BMW's maintenance needs, and addressing issues promptly are key to maintaining your car's performance and reliability. If you have specific questions about your BMW or a repair issue, don't hesitate to call Service4Service on 0808 164 0418 for guidance.
What is the recommended service schedule for my BMW?
BMW's recommended service schedule includes regular maintenance at specific mileage intervals, you can find these at the top of this page. It's crucial to consult your owner's manual or contact your BMW dealership for a precise schedule.
How do I know if my BMW needs servicing or repairs?
Pay attention to dashboard warning lights, unusual noises, reduced performance, or other signs of mechanical issues. Regular BMW servicing and maintenance are also essential to prevent problems from arising.
Can you update my BMW Digital Service Record?
It's important to keep your BMW servicing record up-to-date and the BMW Digital Service Schedule will ensure that this is kept as accurate and secure as possible. It will be used for the life of your car and saved chronologically in a secure centralised system, removing the necessity to present a service logbook during your service with us.
What are the most common issues with BMW vehicles?
BMWs are widely renowned for their speed, power and style and are generally a pleasure to drive, however, they aren't without their problems. From oil leaks and faulty coolant systems to juddering steering wheels and stiff electric windows, these issues are simple to repair for the skilled technicians at Service4Service.
How long will my BMW repair take?
When you book with Service4Service, we run full diagnostics to find the source of the issue you've been experiencing to produce a plan of work required to repair the vehicle. We will always inform you of the work required and the cost, as well as the estimated time required for the repair. If at any point during your BMW repair we believe that it will take longer than initially estimated, we will keep you updated throughout the process.
My BMW is making a grinding sound, what should I do?
If your BMW is making a grinding noise, it may be in need of repair. A grinding sound could be a sign that something isn't right within the vehicle. We offer full BMW diagnostics to source the issue and determine the cause to provide the most accurate repairs possible. Following approval of the work and the cost, our technicians can then undertake any BMW repairs at a servicing and repair centre local to you.
How often should I change the oil in my BMW?
Oil change intervals can vary depending on your BMW model and engine type. Generally, BMW recommends oil changes every 10,000 to 15,000 miles but refer to your owner's manual for the exact frequency.
Do I need to service my BMW even if it's running fine?
Yes, regular BMW servicing and maintenance are crucial to keep your BMW in good condition and to identify and address potential issues before they become major problems which could result in costly repairs.
How is my manufacturer's warranty protected even though my vehicle is being serviced through Service4Service?
The 'Block Exemption' European legislation introduced in 2003 means we can service your vehicle without invalidating your manufacturer's warranty. Our fully qualified technicians and mechanics provide a high-quality car service using standard original equipment or genuine parts for all types of vehicles. That's why customers can save time and money by using Service4Service rather than a main dealership.
How can Service4Service offer their customers such low prices on car servicing for all vehicle manufacturers and models?
Whether it's service, parts or labour, at Service4Service we can help customers make huge savings on main dealer prices. Simply use the form at the top of the page to find out how much you can save on the price of a car service. By using our local service centres and keeping a keen eye on our labour rates, we ensure we offer the most competitive prices possible for original equipment manufactured and warranty-approved parts for all vehicles.
BMW Models We Service & Repair
BMW 1 Series
BMW 3 Series
BMW 4 Series
BMW 2 Series
BMW X4
BMW M1
BMW 5 Series
BMW 6 Series
BMW 7 Series
BMW 8 Series
BMW i3
BMW i8
BMW M3
BMW M5
BMW M6
BMW X1
BMW X3
BMW X5
BMW X6
BMW Z1
BMW Z3
BMW Z4
BMW Z8
Our Features & Benefits
Our service centres use specialist computer diagnostic equipment to carry out a full health check of your vehicle
Our technicians fit Original Equipment Manufacturer (OEM) & manufacturer warranty-approved parts only
We will collect & deliver your vehicle either from home or at work at a time that suits you
Your vehicle will receive a high-quality service that fully protects your manufacturer's warranty
Your vehicle will be washed at no extra charge when you book a full service
How to Book a Service or Repair
Booking a service or a repair for your vehicle is a fast, hassle-free process.
Simply use our online booking form at the top of the page where you can easily follow our 4 step booking process.
Alternatively, you can call us on 0808 164 0418 and one of our friendly sales team will be able to help with your service or repair booking.
Recent Customer Reviews
Very happy to provide yourself with feedback. The service completed on my BMW was fantastic. There were no problems with the work, it was collected and dropped off on time, it came back clean inside and out. Amazing level of service for the price I was quoted.
Very professional service, am pleased with how smoothly it went and will be using this service again.
Fanstastic Service, Thank you. Regards Peter Cox
The service was prompt and efficient. The car has come back beautifully cleaned and now serviced! I will be back again after i've driven 10,000 miles for my next service :-) Great service, thank you. Merry Christmas Trusha
Thanks for great service all round. Definitely be using you guys again. Cheers, Rich
Good Evening, The 'Service4Service' experience was 'First Class' and I am so glad that I made the decision to seek your Services. Not only was I impressed by the clear and excellent work carried out on my car, as per your clear schedule of work breakdown and costs, the aftercare service was most impressive. With a young family, my Car has never been so clean or well looked after. Whilst I can appreciate how busy you are with other Customers,' my imagination began to run riot when I hadn't heard anything by 3pmish both days. Certainly not a criticism, given the impeccable state and presentation of my car, but a callback would have simply knocked my imagination into touch. Given this is my first, giant, step from the usual 'dealerships,' I would more than happily recommend your Company and services to friends, family and my Company. So much so, I will be enquiring into the costs of looking after my Wife's Car, next week. Thank you very much indeed. Kindest regards and very best wishes. Colin Simmons.
Many thanks for all the help my car is now back to normal and at a far better price to repair than the local BMW dealer would have charged. I have been very impressed with the service provided particularly when I arranged this from work overseas. My particular thanks to Paul in your call centre he was a big help.
A very easy service to use.
Cheers for helping me out. Will be coming back for my next service.
Thank you for looking into the problem with my car. It was sorted with great ease, thank you for your time, even if it was only a small issue.
A professional job and the work you completed was excellent too, which has given me lots of confidence to come back and use you again.
You completed the first service on my BMW 7 series and there were no problems with it at all. I am happy with the work completed. Thank you.
Happy to help with feedback. My car was picked up and dropped off with professionalism and the driver was very polite. I was called mid afternoon with an update on my MOT, this update gave me confidence with the company and what was happening with my car. My car was then returned clean, this was an added bonus, with all the necessary paperwork left in my car.
Only needed a small service but there was maximum effort put in!!
I would like to say thank you for the outstanding service I have received from your company. All members of staff that I have spoken with have been very polite and professional through-out. There were no hidden costs to the price I was quoted on my first call. A truly customer focused service.
Having my car picked up and dropped off at my place of work was so convenient. Everyone was so polite and kept in contact with myself throughout the day, which made me feel very comfortable. When its time for my MOT I will be using you again.
Amazing service!! Got my car booked in the next day with no problems, everyone was so helpful and there was no problem with any of the work carried out.
Quick response, no fuss service process. No irritating hidden extras.
Whole process was as advertised very efficient and convenient and much cheaper than dealer quote (BMW) Would use again and recommend to friends.
Thank you for the excellent service provided recently, the car was collected when you said it would be, returned when promised, serviced at price quoted, (no sudden shocks!) Will use you again.
Hi Steve, Thank you very much for your help getting my car serviced. I cant tell you how happy I have been with your customer service from start to finish. Its the first time I have used this company and I will be back again, and recommending it to my friends. Thanks again.
Very pleased with your service and will be back when more work is needed on my car. Thanks.
Found your service very convenient and prompt. Your price was very good in the current market.
I found you very easy to deal with, decent pricing and overall a service I like.
Your drivers were on time and delivered the car back in time for me to leave work on time. A job well done, with a clean car too. Many thanks.
Thank you for a fast and efficient service carried out on my BMW, Collected on time, well informed and very polite manner all round, I will be will returning and recommending anyone to use your service.
Thank you. Excellent job and car is nice and clean.
I think this concept is very good and I liked the way it worked. Helped me out a lot and I won't have a problem coming back to you guys.
Thank you for your prompt and excellent service.
First time user of your services. I will definitely be using you again. Your team were friendly and professional. Thank You.
Great job and great service. 10 out of 10.
Why Use

Service4Service?
Guaranteed protection on your manufacturer's warranty
Vehicle collection and delivery
Full diagnostics and reprogramming
Service book stamped or digital service book updated
Manufacturers warranty protected
FREE wash (full service only)*
Vehicle health checks
12-month warranty on all parts
Price includes parts & labour for service
0% finance option
*Outside wash of vehicle only, subject to availability.