Warranty Claims Undertaken
0% Finance Available on Repairs
Free Recovery &
Diagnostics (terms apply)
12 Month Guarantee Across All Vehicles
Browse the Latest Work from Our Specialist Repair Centres
Browse our gallery of some of the latest gearbox, transmission and engine repairs and replacements, from experienced technicians at our specialist repair centres local to you. Our technicians provide exceptional services for all makes and models.
Timing Chain Replacement
Guaranteed protection on your manufacturer's warranty
Timing chain replacements and renewals
Loose timing chains
Timing belts and cambelt repairs
Full repairs with warranty-approved parts
All major manufacturers and models
Timing Chain Repairs & Replacements for All Major Manufacturers
Your vehicle's timing chain is a crucial part of the engine that plays an integral role in its function and safety. The engine is made up of multiple parts and liquids that all make the combustion process possible and the timing chain is part of this process. An issue that many vehicles seem prone to is movement and loosening of the timing chain. Over time, the timing chain and assembly will wear down and this can cause slack in the mechanism.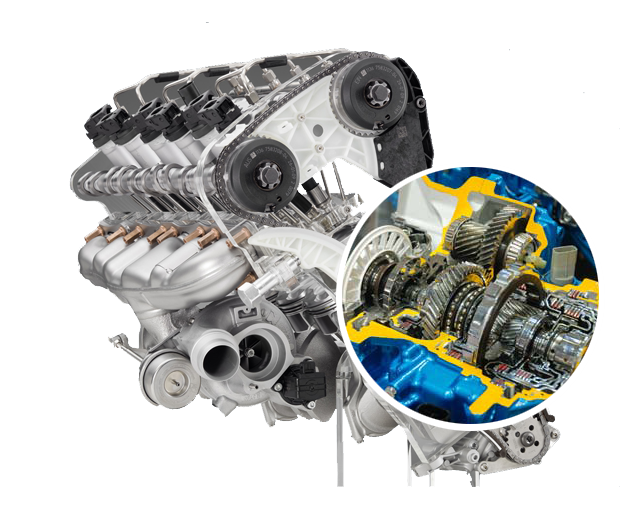 If you're noticing an issue with the timing chain, this could be a sign of wear and tear or incorrect installation of a new chain. If the chain is becoming worn, this could cause bigger problems and more expensive damage than simply having it replaced sooner rather than later. If the chain was to break while you were on the road, it could result in a breakdown, damage to the pistons, or other potential problems. A timing chain on its own isn't overly expensive, so it's best to pay out for a replacement before more damage can be caused.
If you're looking for timing chain repairs near me, at Service4Service, we provide reliable and high-quality timing chain repairs and timing chain replacements across the UK, as well as repairs for the after-effects on the engine. We use only OEM or manufacturer warranty-approved parts to ensure that your vehicle remains in its best condition. Our experts are on hand to offer exceptional timing chain quotes and repairs near you.
✔ Warranty Claims Undertaken ✔ 0% Finance Options Available
✔ Free Recovery & Diagnostics ✔ 12-Month Guarantee
Spread the Cost with 0% Interest-Free Finance on Servicing & Repairs
At Service4Service we want to help ease the cost of your car service or any other unexpected vehicle repairs, by offering our customers the option to spread the cost of their repair bill over either four or ten months, interest-free with a choice of car repair payment plans.
4 months interest-free option
Car repair or servicing costs totalling over £350.
Spread the cost over 4 months interest-free.
You pay 25% of the total upon application.
The remaining 75% is spread over 3 equal monthly payments.
A valid UK debit card is required to arrange the payment plan.
10 months interest-free option
Car repair or servicing costs totalling over £1000.
Spread the cost over 10 months interest-free.
Deposit between 10% - 50%.
Finance subject to acceptance.
Credit and affordability checks carried out.